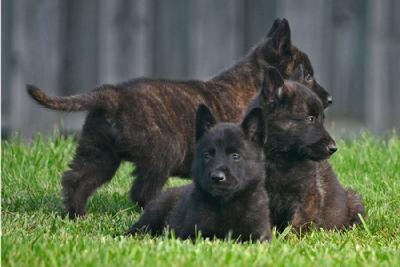 Dutch Shepherd Puppies $2,000
Prices subject to change and 6% Michigan sales tax. Discount to law enforcement and active military.
Cher Car Kennels has a long-standing relationship with law enforcement and military service personnel. Although appreciative of a high drive Police Service or Military Working Dog, these individuals require a different type of canine companion in their own home, and many choose a herding breed to safeguard their loved ones. These dogs must be vigilant in their duties, but also calm and gentle with family members… playing with the kids or snuggling with the cat. Cher Car Kennels' 45 years of breeding experience has produced a long line of dogs whose temperaments meet that need.
Our dogs protect the families of those who protect our freedoms™
(Click on dog's picture to view personal bio page)
"Hannah" is a wonderful next-generation Cher Car Kennels dog. Her mom "Shiloh" is a "Becker" daughter, which is where she gets her stable, friendly temperament and her dad is our spiffy red dog "Dexter", who has a happy-go-lucky attitude and immense desire to please.
"Hannah" has a lovely balanced temperament and is extremely social with people and other dogs, and possesses good ball and tug drive. We expect her to produce willing, beautiful dogs with a calmer spirit.
"Ekon" is Lori Webster's outstanding competition dog, out of our dam "Luna" (the UKC's first Dutch Shepherd SUPERDOG who was also the first dog of any breed to title in every UKC all-breed performance event) and our superior stud dog "Lothar", sire of 25 Police K-9s.
Ekon is a multiple High-in-Trial nosework competitor, having earned 27 titles to date… which means he is only 1 title away from the ELITE NOSEWORK title! He is also titled in UKC Rally Obedience, holds multiple Dock Jumping titles in fetch-it and catch-it, and is a Champion Distance Jumper!
What Ekon loves to do more than anything is bitework and he has been an outstanding performer in many personal protection tournaments over the last few years.
We really like Ekon's muscular frame and masculine head. He is a joy to work with, very biddable and never tough to the handler. We are very excited to see what this boy does to continue our traditions here!